Machine Inletted, which is also referred to as Semi-Inletted or ninety-five percent inletted,‭ items have been machine shaped and inletted and the necessary holes have been drilled.‭ (‬There are specific stocks that may have a hole that is drilled during the fitting process and cannot be predrilled‭)‬ These pieces are left slightly oversized around the action to allow for the variances in the gunmetal and will require final fitting to the action,‭ ‬trimming to the metal where the wood meets the action as well as‭ ‬final sanding,‭ ‬checkering if desired and application of desired finish.‭ ‬The two-piece pump/auto pieces will take the least amount of skill to fit,‭ ‬boxlock over/ unders and side by sides and centerfire bolt action rifles will require a higher skill level.‭ ‬Sidelock guns should be reserved for trained professionals.‭ ‬Suppliers such as Brownells will have all the necessary tools needed such as files,‭ ‬chisels,‭ ‬gouges,‭ ‬finishes,‭ ‬inletting pins,‭ ‬etc.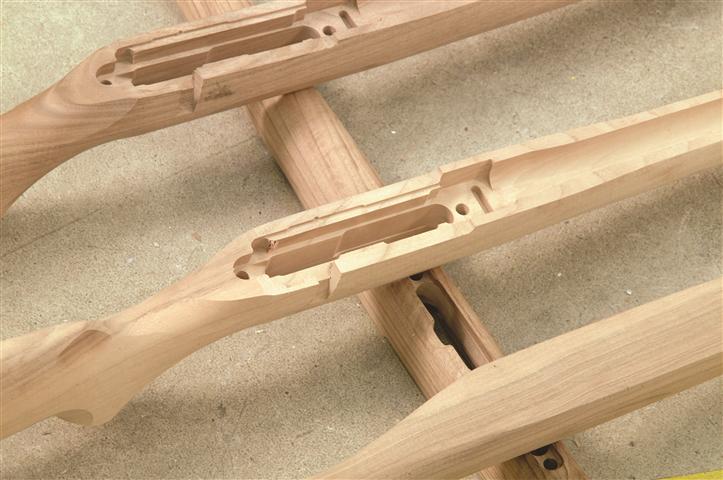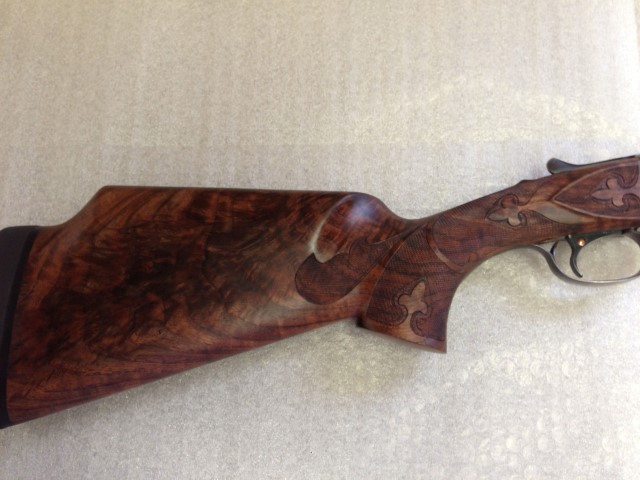 A regular pattern of fine grooves cut into the surface of a stock to aid in gripping a gun. Originally done for utility only, checkering has become an art form in itself; craftsmen adorning the borders with ribbons, fleur-de-lis, floral carving, etc. The amount of coverage, the precise regularity, and the number of lines per inch indicating the quality of the work. Too-fine checkering, however, defeats the purpose of the work altogether.
Finished Stocks and Forends
COMPLETELY FINISHED! If the customer is needing/wanting a new buttstock, forend, or rifle stock, and wants it on their gun ready to shoot when they receive it, this is the top-of-the-line option!! ‬Our completely finished stocks include the machining,  hand fitting, sanding, ‬standard 22‭ ‬lines per inch point checkering,‭ our specially formulated two-component urethane finish, which is available in 20, 40, or 60 sheen, and the choice of a recoil pad or butt plate. There are also upgrade options including traditional oil finish, deluxe finish (high gloss), and hand-rubbed oil finish as well as many different checkering patterns.‭ ‬We have an extensive stock pattern list to choose from or we can build to the customer's supplied dimensions.‭ **Note: Duplicating customer's pattern or building a pattern to match customer's dimensions will include additional charges.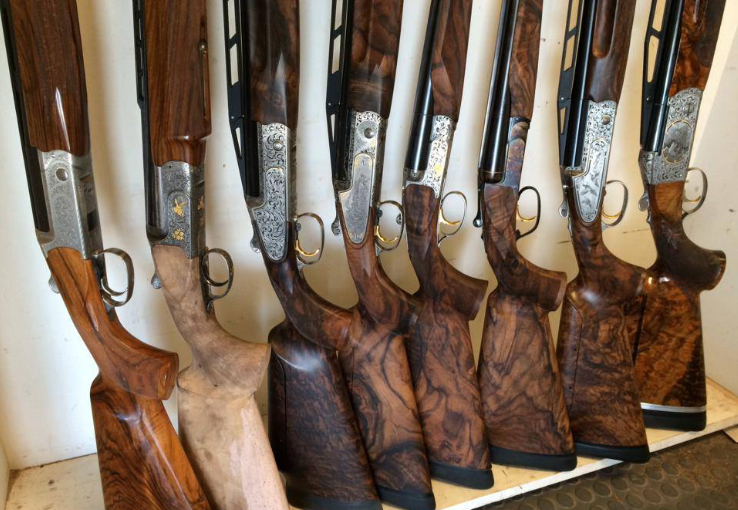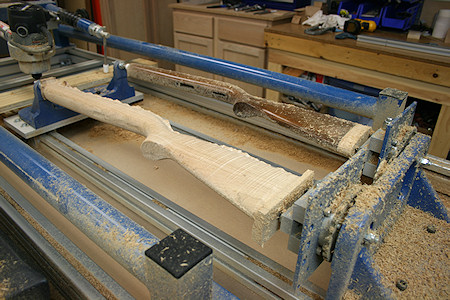 Duplicating Customer Stocks
Duplication of customers stocks is another service that is offered,‭ ‬the supplied stock is taped to protect it from being marked by the stylus and is returned looking just as supplied.‭ ‬Damaged or broken stocks can usually be repaired enough to duplicate in the event another useable pattern is not available.‭ ‬Those‭ ‬customers with solid synthetic stocks may also have them duplicate in a wood of their choice.
Our custom‭ fitting service will give you the benefits of reduced recoil,‭ ‬point of impact placement,‭ ‬ease of mounting and will make your gun more enjoyable to shoot.‭ ‬The fitting will concentrate on proper positioning of the recoil pad in your shoulder pocket,‭ ‬comfortable grip with your finger behind the trigger, the palm swell, if desired, being sized and located properly and the proper comb configuration. ‬In years past the‭ "‬Try Stock‭" ‬method was very common, and is still used by some stock makers.  Although there are many adjustments made with this method, we believe it won't achieve the best results.  We choose to start with a standard stock and build it to the customers' preferences, we call this the "Pattern Stock.‬"
We schedule custom fittings daily. You will need to arrive at 7 am and plan on spending the day with us. We will start by building your pattern, while adjustments are being made you will have a chance to choose your blank of wood to be used for your final stock. Once the pattern is ready, the selected blank will be machined and hand fitted to your action. Next, you will get to shoot your gun with the new stock, having an opportunity to do any necessary final tuning.  Before you leave, you will need to choose your desired checkering and finish!  When your job is completed we will call you for shipping preferences!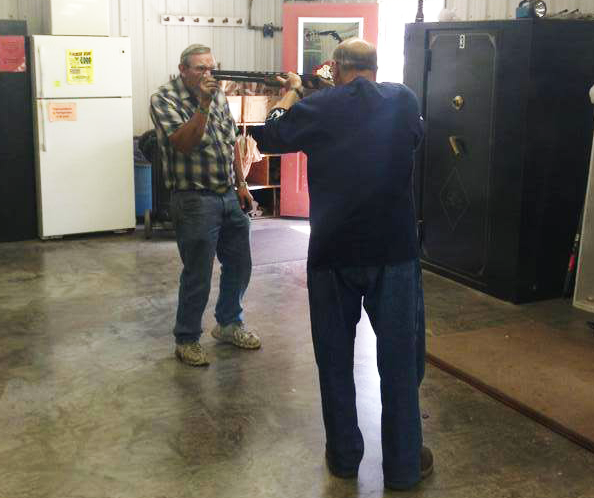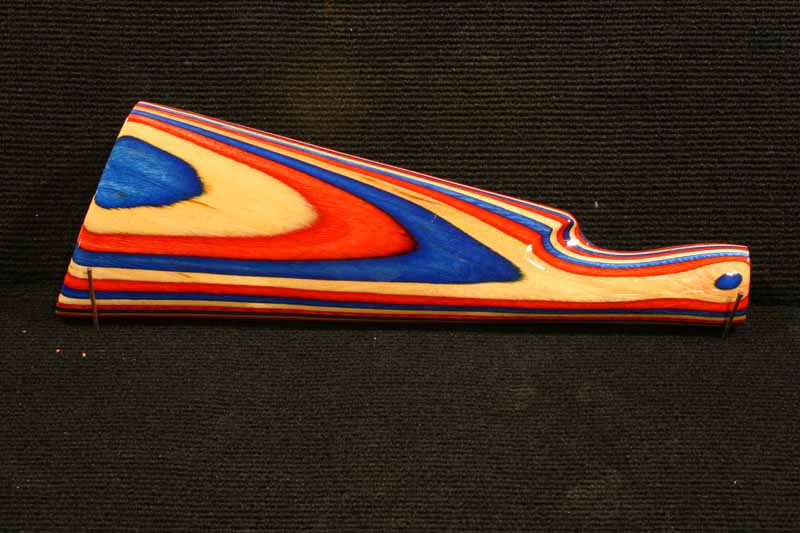 Colored laminate is a very stable material that holds up well in many weather conditions. It machines easily with today's woodworking machines and sanding is similar to sanding natural wood. With the available color choices in addition to a virtually unlimited number of patterns, laminate is a sure way to make your firearm one of a kind. Laminate also provides a great base for checkering, laser engraving, and custom engraving.